| | | | | | |
| --- | --- | --- | --- | --- | --- |
| Kazakhstan | Kyrgyzstan | Tajikistan | Turkmenistan | Uzbekistan | Afghanistan |
Islamic State of Afghanistan (Dowlat-e Eslami-ye Afghanestan).
Area:
- total 652 230 sq km

- land 652 230 sq km

- water 0 sq km
Population: 28.396 million (July 2009 est.)
People: The principal ethnic majority are the Pushtuns also known as Pukhtuns and Pathan (52%) who are divided into two sub-tribes (1.) the Durranis and (2.) the Ghilzais. The principal ethnic minority are the Tajikis (21%). Other smaller ethnic minorities include the Hazara Mongols (Hazars) (8.7%), Aimaks, Uzbekis, Turkmens, Nuristanis and Qisilbashes.
Life Expectancy: 47.0 years male, 46.0 years female
Capital: Kabul
Administrative Division: 30 provinces (velayat, singular - velayat); Badakhshan, Badghis, Baghlan, Balkh, Bamian, Farah, Faryab, Ghazni, Ghowr, Helmand, Herat, Jowzjan, Kabol, Kandahar, Kapisa, Konar, Kondoz, Laghman, Lowgar, Nangarhar, Nimruz, Oruzgan, Paktia, Paktika, Parvan, Samangan, Sar-e Pol, Takhar, Vardak, Zabol; note - there may be two new provinces of Nurestan (Nuristan) and Khowst
Political parties and leaders: Taliban (Religious Students Movement) [Mullah Mohammad OMAR]; United National Islamic Front for the Salvation of Afghanistan or UNIFSA [Burhanuddin RABBANI, chairman; Gen. Abdul Rashid DOSTAM, vice chairman; Fahim KHAN, military commander; Mohammed Yunis QANUNI, spokesman]; note - made up of 13 parties opposed to the Taliban including Harakat-i-Islami Afghanistan (Islamic Movement of Afghanistan), Hizb-i-Islami (Islamic Party), Hizb-i-Wahdat-i-Islami (Islamic Unity Party), Jumaat-i-Islami Afghanistan (Islamic Afghan Society), Jumbish-i-Milli (National Front), Mahaz-i-Milli-i-Islami (National Islamic Front)
Executive body: President and Government
Highest legislative body: Loya Jirga
Major industries: Agriculture, Bicycles, Carpets, Cement, Food Processing, Footwear, Fur and Leather Products, Furniture, Plastics, Textiles
Major trading partners: The former USSR, the USA and Germany
Main exports: Carpets, Cotton, Fruit, Karakul Skins and Wool, Natural Gas, Nuts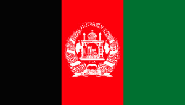 The flag of Afghanistan is tricolor (black, red and green) all pieces joined together vertically from left to right in equal proportions; the breadth of each strip equalling half of its length, having in the middle the insignia of the mehrab (an arch in a mosque where the praying congregation stands, facing the Kaaba in Mecca) and the mender (a many tiered pulpit placed to the right of the mehrab in a mosque, from which addresses are delivered) in white, flanked by two flags and ensconced in two sheaves of wheat.

State Symbol