Water Resources Management in Afghanistan: The Issues and Options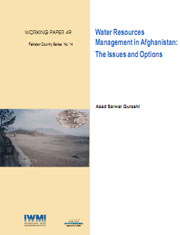 Foreword
Afghanistan is a landlocked country of about 65 million hectares and 20 million people, of which 16.5 million live in rural areas. It is characterized by a rugged mountainous landscape, and scattered human settlements. The economy of the country is based on agricultural products and livestock. Majority of the rural population is small subsistence farmers who live of small plots of land. Therefore, management of water resources is a vital factor for the economic growth and to meet the people's needs for food and fiber.
A combination of war, civil conflict, exploitation and enforced neglect have combined to leave a legacy of degraded natural resources including agriculture, especially destroyed infrastructure and fragmented rural institutions. The successive drought of last four years has further added to the miseries of the Afghan people. The challenge for everyone involved in the development of Afghanistan is very clear-improve the land and water resources, which can provide immediate income, food security, a foundation for new livestock practices and much more. Water is central to all of this.
Currently, water sector in Afghanistan has no clear vision for immediate and future development. Improvements in water resources management need to be approached in a strategic manner-it needs planning, guidance and investment. A number of national and international organizations are presently engaged in the assessment of current situation and strategy development for short, medium and long-term projects for the rehabilitation of irrigation systems. Lack of data, the unreliability of the existing data and the collapse of the institutional set up makes it difficult to understand and assess the current situation. Therefore a conscious effort is needed to collect all existing information and data from institutions, private organizations and from people's memories to complete the picture. This report is also an effort in this direction. This report presents the analysis of current status of water resources management in Afghanistan and identify steps for maximizing the use of available water resources to enhance crop productivity and environmental sustainability.
Dr. Asad Sarwar Qureshi
Acting Regional Director
IWMI


Source: Water Resources Management in Afghanistan: The Issues and Options by Asad Sarwar Qureshi, IWMI, Working Paper 49