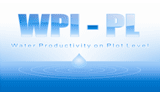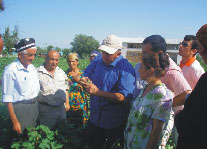 Fifty-six chief experts from Kyrgyzstan, Tajikistan and Uzbekistan have received the offered training, which they further disseminate to farmers through the partner organizations.
Each topic is provided by:
Guidelines;
Forms for fill-in the obtained information and bulletins for each field operation, performed by the expert;
Field trainings at the demonstration plots assigned to the farmers.
The on-site monitoring of private farms, conducted by IWRM-Ferghana Project in the context of training the trainers program allows enhancing of the received knowledge.
The bulletins for farmers were prepared based on the recommendations and guidelines on the efficient use of irrigation water and land treatment operations and disseminated by the regional and district project executives.
From November 2007 to April 2008, the regional experts of Sogd, Ferghana and Andijan regions carried out a lot of work on training the farmers located in the area of pilot channels of IWRM-Ferghana Project.
In Sogd region, the regional experts have provided the trainings in two districts, located in the zone of Khodjabakirgan channel. In total, the project executives have covered 264 farmers in Sogdiy region, 605 farmers in Ferghana region and 800 farmers in Andijan region.
The Protocols of the meetings, workshops and trainings
2011
2010