From CAWater-Info portal administration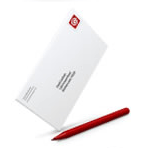 Over last period of time the messages containing inappropriate propositions about the Governments of the region, aiming to the incitement of inter-state conflicts, and containing a set of distorted information without indicating the information source and with the signature of "independent investigators", "political scientists", "former employees" etc., are coming one by one to our address.
Given that the aim of the portal is to create information space for strengthening inter-state cooperation and sustainable management of transboundary water resources, the editors did not consider it possible to publish these materials.
However, in order to prevent penetration of unreliable information and data into the various information sources , we decided to present all the comparative data on the region, in addition to materials of our ôAnalytical sectionö, where the main results of comparative analysis of data on the five countries from 1980 up to now are placed for public review.
In addition, we ask all visitors of our portal to keep in mind that our news digest is based only on materials/information from official sources, international agencies and official international media.
We invite everybody to participate in thematic discussions organized on the portal, for example, dedicated to World Water Forum, etc., but we ask you to follow our principles of communication: fairness, kindness, the desire for consensus.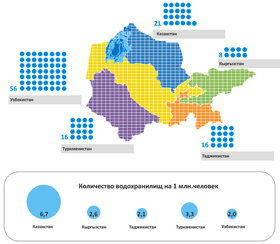 Number of reservoirs (2015)
Information source: CAREWIB DB - www.cawater-info.net/data_ca/


Countries
Number
of reservoirs
Population
(thousand people)
Number of reservoirs
per 1 million people
Kazakhstan
21
3601,4
5,83
Kyrgyzstan
8
3445,5
2,32
Tajikistan
16
8528,1
1,88
Turkmenistan
19
5536,1
3,43
Uzbekistan
58
31575,3
1,84
Total
122
52686,4
2,32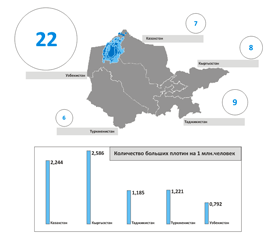 Number of large dams (2015)
Information source: CAREWIB DB - www.cawater-info.net/data_ca/


Countries
Number
of large dams
> 15 m, > 50 million m3
Population
(thousand people)
Number
of large dams
per 1 million people
Kazakhstan
7
3601,4
1,94
Kyrgyzstan
8
3445,5
2,32
Tajikistan
9
8528,1
1,06
Turkmenistan
6
5536,1
1,08
Uzbekistan
22
31575,3
0,70
Total
52
52686,4
0,99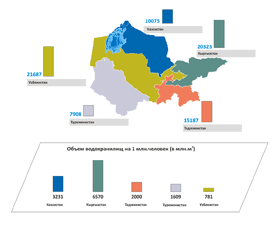 Total storage of reservoirs (2015)
Information source: CAREWIB DB - www.cawater-info.net/data_ca/


Countries
Total storage of reservoir,
million m3
Population
(thousand people)
Storage
per 1 million people,
million m3
Kazakhstan
10075
3601,4
2798
Kyrgyzstan
20519
3445,5
5955
Tajikistan
15187
8528,1
1781
Turkmenistan
7960
5536,1
1438
Uzbekistan
21716
31575,3
688
Total
75457
52686,4
1432
Electricity production (2014)
Information source: CAREWIB DB - www.cawater-info.net/data_ca/


Countries
Electricity production
million kilowatt-hours
Population
(thousand people)
Electricity production
per 1 people,
kilowatt-hours
Kazakhstan
3114
3541,6
879
Kyrgyzstan
13167
3376,3
3900
Tajikistan
16500
8352,0
1976
Turkmenistan
20100
5465,1
3678
Uzbekistan
55800
31022,5
1799
Total
108681
51757,5
2100
Total water withdrawal (2014)
Information source: CAREWIB DB - www.cawater-info.net/data_ca/


Countries
Total water withdrawal *,
million m3
Population
(thousand people)
Water withdrawal
per 1 people for year,
m3
Kazakhstan
9780
3541,6
2761
Kyrgyzstan
3345
3376,3
991
Tajikistan
11695
8352,0
1400
Turkmenistan
26280
5465,1
4809
Uzbekistan
57201
31022,5
1844
Total
108301
51757,5
2092
* Total water withdrawal includes:
- Municipal water supply

- Industry

- Agriculture

- Other
Water withdrawal for irrigation (2014)
Information source: CAREWIB DB - www.cawater-info.net/data_ca/


Countries
Water withdrawal
for irrigation,
million m3
Irrigated area
(gross),
thousand ha
Specific
discharge of water
per 1 ha, m3/ha
Kazakhstan
6654
741
8980
Kyrgyzstan
3060
402
7612
Tajikistan
8776
801
10956
Turkmenistan
20445
1988
10284
Uzbekistan
47839
4397
10880
Total
86774
8329
10418